Single Door Hook Bolt Multipoint Door Locks, ML40/46 (Locks Only)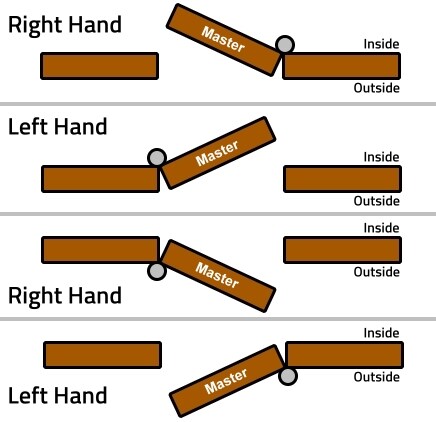 This select range of Multipoint Door Locks incorporates 25mm tapered enhanced tensile steel hook with a 4.5 chamfer in the upper and lower positions, offering reduced operating forces and increased on-site installation tolerance.
Finished in a Silver Bichromate to BS EN 1670: 2007 Grade 4. This impressive locking system is Police Secured by Design approved, and has been fully tested to PAS 23: 1999 and PAS 24: 2007, cycle tested to 100,000 operations, and surpasses BS EN 14351-1: 2006. 10 Year guarantee.
These locks are available with a square ended 2105 x 16mm or 20mm faceplate for stability and ease of routing. Features a 45mm Backset and 92mm Euro Profile lock centres.

Please note that keeps are supplied separately.
To help you choose the correct handing please see the diagram to the right.

Size 2 - this denote the dimension between the top of the lock box to the bottom of either the hook lock or twin tapered top bolt box, "Size 2 = 600mm".

How to read the part number and what the code means, for instance a ML46S-45-2-LH-SV is broken down to the following;

ML46S = The type of locking system used (S means Square End) ML46 has a 16mm Face Plate Width, the ML40S has a 20mm Face Plate Width.
45 = 45mm Backset dimension.
2 = Size 2 lock is specified (see above noted regarding size).
LH = Means Left Hand, this will either be a handed lock or the keep(s) will be handed.
SV = This stands for the finish the lock is provided in.
Unit: Each
Share: