We've listened to feedback in the market concerning the issues being faced by joiners and homeowners with their current lift and slide timber door systems – and developed a new solution. Addressing the needs of the market, our new design HS Portal SCV Lift and Slide System is packed full of features and benefits for you and your customers:
Available in many Scheme configurations – see the benefits of our HS Portal SCV systems for yourself by watching the videos from the 'Feature Videos' tab below.
Feature Videos.
Below are a selection of videos for you to watch highlighting your benefits of the new HS Portal SCV's design features.
---
The current trend for larger door leaves brings with it the challenge of controlling the door. But Coastal has a solution for you and your customers.

The new soft close and open option provides you with much greater control over the door. It helps prevent injury and damage to the frame. What's more it adds value to your door, and it's what your customers want.

Customers voiced concerns on the safety issues with protruding bolts and keeps.

We've listened and our new design security Hook Lock has no protruding bolts and it has Flush Plate Keeps. The additional Lockable Night Vent feature enables air circulation and is another common request from homeowners.

Demand for a clean minimalist look increases, so we've concealed the top track in the head of the frame and designed a slim bottom rail with no visible screw holes.

In today's manufacturing process, time is money so we have simplified the profiles and meeting stiles, and pre-machined them for you!

Made from Durodeen, these profiles will not rot and will speed up your production time.

One of the big problems with using a timber threshold is it starts to rot as soon as you fit it into the ground!

Coastal's Hollodeen is made from a stone resin so it will never rot, Plus it's pre-machined to save you time in manufacture.

Four finishes are available so your customers can match in with their existing hardware.

We're here to help you. Our staff are trained to help with your technical enquiries.

Full CAD drawings are available from our website to help you in manufacture and are part of our support package to you.
Enquiry Form.
Please fill out the enquiry form below and we will contact you to discuss your requirements.
The following Scheme Selections are available: Red denotes opening doors, Blue are fixed sashes/frame elements.

Fitting Information.
Information will follow here shortly.
In-house Configurator.
We understood how important it was to make sure we could turn quotations around quickly and accuratly, and with the knowledge and the expertise we have here at Coastal we decided to write an in-house product configurator so we could do just that. Out technical team have experience in software writing so programming up a configurator to make sure the correct parts are selected for the schemes you require was very achievable, after all depending on the scheme you require means there are a lot of different components used, so making sure the correct components are selected was key.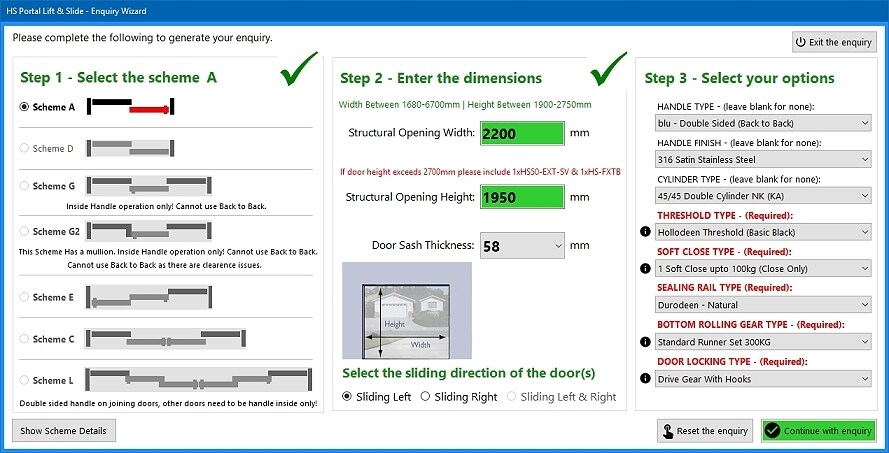 Our configurator software is used by the technical sales team who can turn a quote around in minutes, the wizard based software lets you select the scheme you require then you input the overall frame size (there is checking in place to make sure you cannot go outside of the limits), choose the type of ironmongery you want then generate the quote, it is as simple as that.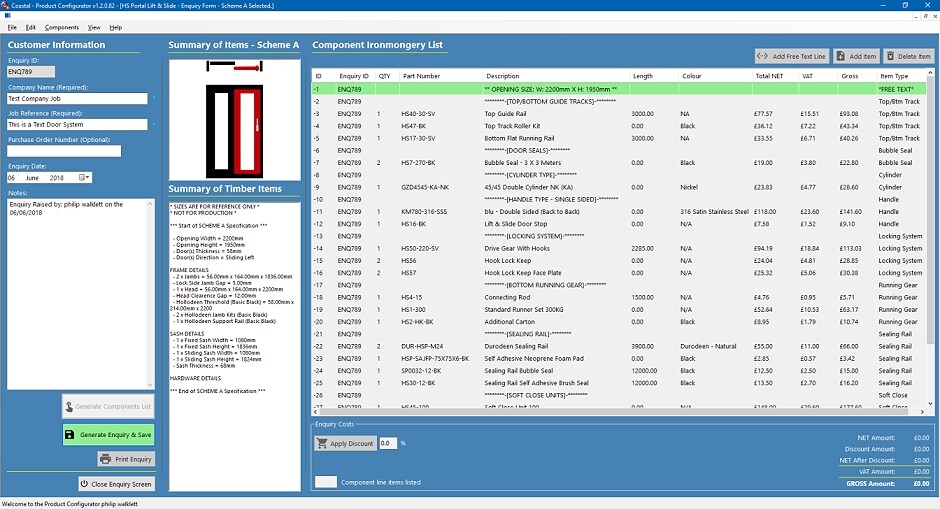 The software then displays a shopping list of products you need to make the selected scheme, this can then be added to an order or a quotation then processed through the system.
Customer Testimonials
Joiners that have used the HS Portal SCV are coming back with excellent feedback on the system:
"Everybody in the company involved with the patio doors think your system is top quality and looks far superior to the other systems we have been using, and we have had very good feedback from clients."
"Combines excellent hardware technology with the beauty of timber and as a result clients love it."
"A fantastic solution... it means people can have their sliding door open at night without having to worry about any security issues... the addition of the soft close system is a really good feature."
"We were asked to complete a very challenging project for our client, consisting of a 3.5 metre span with 2.5 metre long sliding door system. We were having to house and move 140 kg of glass so it really needed the best hardware and that's certainly what we got.
Wasn't just the quality of the hardware, the support we received was brilliant. Because of the sheer size of the system we simply couldn't afford to get anything wrong. The technical support made the job a lot smoother than it might have been."
Gallery
Gallery images of the HS Portal SCV System.