CoFirm Double Sided Glazing Tape
Tapes, Seals & Weatherseals - Glazing Seals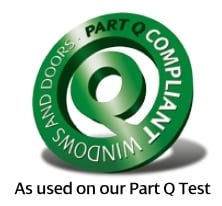 Product Code: CF16

CoFirm is a double coated, closed cell PE foam tape ideally suited to bonding difficult and dissimilar surfaces including metals, wood, ceramics, plastics and even painted and powder coated finishes, making it the ideal choice for glazing applications such as Georgian bars, fixings beads, and fixing glass against a rebate.

It has a higher coat weight of adhesive than existing products, giving it a higher initial tack (even in temperatures of -20°), and a greater long-term bond. Our foam is coated with a high performance UV beam cured acrylic adhesive system.

The PE polyethylene foam construction provides excellent conformability and is ideal for rough, uneven and unstructured surfaces. In addition the foam offers excellent sealing, and vibration absorption ensuring that bonded joints remain permanently secure even in difficult and exacting applications. Available in a number of widths in black or white.
Unit: 46 Mtr Roll
Share: