Croppable Single Multipoint Door Lock Kits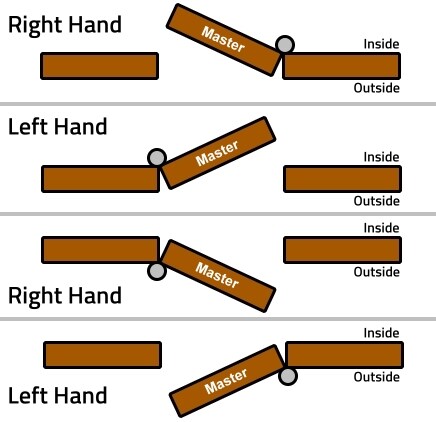 These locks are complete with handed keeps, and are available with a square ended 20mm faceplate for stability and ease of routing, which is croppable for suit doors from 1300 - 2240mm. Has a 45mm backset and 92mm Euro Profile lock centres.
The lock itself is not handed this is universal, to alter the handing you need to release the screw in the rear of the lock box and turn the latch 180 degrees, once the correct handing has been achieved, tighten the screw to secure the latch.
The handing diagram to the right will help you select the kit you require, the MK7 keeps are NOT handed but the MK9 Centre Keeps are handed.
How to read the part number and what the code means, for instance a ML70S-KIT-45-28-LH is broken down to the following;

ML70S = The type of locking system used (S means Square End).
KIT = Means this is a kit including keeps.
45 = 45mm Backset dimension.
28 = 28mm Centre line keep supplied.
LH = Means Left Hand, this will either be a handed lock or the keep(s) will be handed.
Share: