Tall Single Door Multipoint Door Lock Kits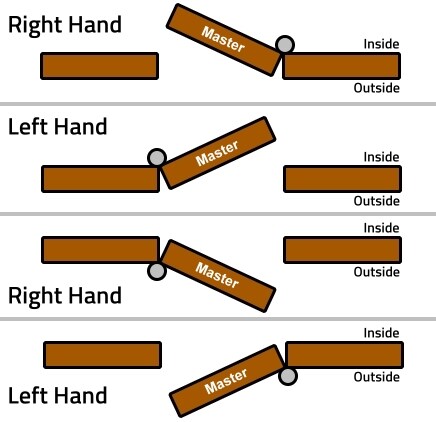 Finished in a Silver Bichromate to BS EN 1670: 2007 Grade 4. This impressive locking system is Police Secured by Design approved, and has been fully tested to PAS 23: 1999 and PAS 24: 2007, and surpasses BS EN 14351-1: 2006. 10 Year guarantee.
The locks measure 2400mm in length and have a 20mm square ended faceplate, these locks are not handed and can be altered by switching the latch around, they have a 45mm backset and 92mm Euro Profile lock centres with 3 position hook bolt points. The kits are supplied with MK7 keeps which are not handed, and a MK9 centre keep which is handed.
The diagram to the right should help you chosse the correct handing.
How to read the part number and what the code means, for instance a
ML50S-KIT-45-33-LH
is broken down to the following;
ML50S = The type of locking system used (S means Square End).
KIT = Means this is a kit including keeps.
45 = 45mm Backset dimension.
33 = 33mm Centre line keep supplied.
LH = Means Left Hand, this will either be a handed lock or the keep(s) will be handed.
Share: