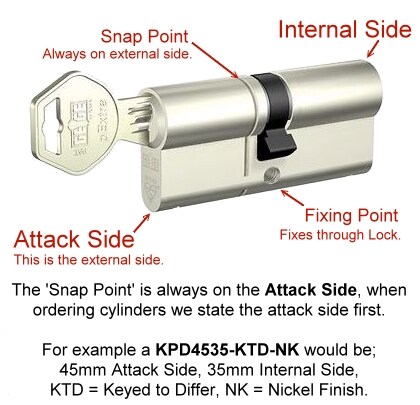 The ultimate and the latest in cylinder security, standing alone as offering the highest level of security in the UK today.
KABA pExtra Guard KPD Euro Profile Double Cylinders have been designed specifically to meet the TS007 3-Star standard for lock cylinders, and has undergone rigorous testing prior to its full approval to the new standard, to provide a counter-measure to, amongst others, the increasing threat of snapping locks, the cylinder itself features several layers of protection.
In particular, the cylinder features a sacrificial break slot, which ensures that in the event of the cylinder being snapped, the secure core of the lock is retained within the door, preventing forced override of the cylinder.
Anti-Snap. The front section of the cylinder is designed to snap off when forced, leaving the cylinder in place, and the door secure.
Anti-Drill. XPD cylinders are engineered using high strength materials and a robust construction to withstand prolonged drilling.
Crumple Zone. The cylinder will collapse to a predefined pattern when under attack, leaving the core mechanism intact.
Grip Resistant. The unique integrated grip resistant device prevents intruders wrenching the cylinder with grips.
Interlocking Cam. The cams within the cylinder are designed to interlock, providing a greater degree of security.
Anti-Bump. Many cylinders can be easily 'bumped' - inserting an illegal key and tapping to release the cam and open the door. XPD cylinders are proven to resist this.
Anti-Pull. These cylinders feature advanced plug extraction.
Patented Section. The pExtra key system is patented until 2021.
Feedback from a Test House on the KABA pExtra Guard 3 Star Cylinder:
"Out of all the cylinders we have tested the KABA pExtra Guard is by far the most Secure"
Senior Test Engineer – Wintech Engineering (UKAS)
Available as Keyed to Differ or Keyed Alike to order complete with a security key card and two keys.
Please note that cylinders are supplied with two keys in total per cylinder.
Keyed alike pairs, or a whole batch of keyed alike cylinders? No problem with Kaba pExtra.
Please call us prior to ordering if you are wanting to key in with a previous key suite.
Click here for a cylinder size guide, we stock a lot of different sizes some of which are not listed here so please contact the office for more details.

We advise you look after your 3 star cylinder with the KABA Cylinder Lubricating Spray, you should NOT use products like spray oils to free up the cylinder as these attract dust which clogs the cylinders and actually increase the risk of faliure.
The sizes stated below are always measured ATTACK SIDE / INTERNAL SIDE i.e. 35mm / 45mm = 35mm ATTACK SIDE / 45mm INTERNAL SIDE.