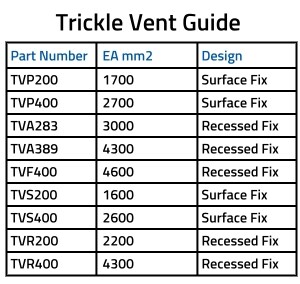 In recent years, the airtightness of buildings has become an issue, as part of a drive to provide thermal comfort and reduce energy consumption. However, as dwellings are made more airtight, internal pollutant sources can have greater impact on indoor air quality. Occupants may experience adverse health effects unless ventilation is effective.
Ventilation is necessary to provide a healthy and comfortable internal environment for the building's occupants. The main purpose of ventilation is to remove polluted indoor air from a building and replace it with 'fresh' outside air.
Described as 'a small ventilation opening designed to provide controllable whole building ventilation. Background ventilation via trickle ventilators provides the building with the facility for secure, draught free ventilation. Background ventilation should ideally be positioned 1.7m above floor level, to avoid noticeable draughts, trickle vents are ideal for meeting this requirement.
The Building Regulations in England and Wales require 'that there shall be adequate means for ventilation provided for people in the building.'
If the existing or old window had trickle vents, the replacement window should also have them. (to at least the same level of performance) The new vents should offer at least the same capacity as the out going vents. Where it is not possible to ascertain the capacity of the outgoing vents:
Habitable rooms should have a minimum of 5,000 mm2 equivalent area*.
Kitchen, utility, bathroom (with or without WC) should have a minimum of 2,500 mm2 equivalent area*.
*Equivalent Area (EA) is the industry accepted method of determining the performance of a ventilator.
These figures will vary for installations in Scotland, Northern Ireland and Eire.
Note: If the outgoing window did not have trickle vents, it may be advantageous to provide the facility with in the new window.