TVP Plastic Surface Fix Trickle Vent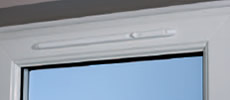 Product Code: TVP
The TVP Vent is a surface mounted plastic slot ventilator that fits over a 13mm slot. The TVP is ideal for both new build and refurbishment situations using any window material and is available in a variety of colours. Specifically developed for recent revisions to Part F of the Building Regulations, Ventilation (England & Wales), and to improve performance for requirements throughout the UK and Europe. For installing on the inside of the window.
TVP ventilators have been specified and fitted on millions of windows throughout the UK and mainland Europe over the last fifteen years.Available in White or Brown finishes in 265mm or 410mm lengths, giving air flows of 1700mm2EA and 2700mm2EA respectively when used in conjunction with the TVP canopies.
EA figures above and marked on vents are achieved when fitted to manufacturer's recommendations. Tested in accordance with BS EN 13141-1: 2004.
Unit: Each
Share: