TVG Plastic Recessed Fix Trickle Vent Grille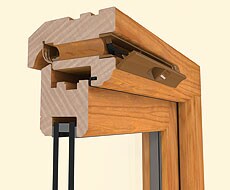 Product Code: TVG

The TVG is ideal for both new build or refurbishment situations using any window material and is available in a variety of colours. The new design improves the range to offer increased ventilation giving optimum airflow (and therefore Equivalent Area) utilising existing slot sizes and vent lengths, meaning they are 60% more efficient than previous models. Specifically developed for recent revisions to Part F of the Building Regulations, Ventilation (England & Wales), and to improve performance for requirements throughout the UK and Europe.
TVF ventilators have been specified and fitted on millions of windows throughout the UK and mainland Europe over the last fifteen years.

Available in White or Brown finishes in a 358mm length, giving an air flow of approx. 4600mm2EA when used in conjunction with the TVF ventilator, the grille is used when there is no external canopy.

EA figures above and marked on vents are achieved when fitted to manufacturer's recommendations. Tested in accordance with BS EN 13141-1: 2004.
Unit: Each
Share: