Hardware corrosion is a big issue for both joinery firms and door and window manufacturers across the UK.
And if you are thinking corrosion is only really a problem for windows and doors in properties by the sea – you need to think again. That's because over 80% of the UK is exposed to high atmospheric corrosion. According to research from the Galvanizers Association(1) corrosion levels don't really start to fall off until you are between 30 and 50 miles from the coast. What's more research has shown corrosion levels are even higher in more industrial areas such as Liverpool and Manchester. That means your hardware is most likely under constant attack.
Constant Hardware Attack
Whether it's polluted city air, corrosive salt air or continual exposure to the elements your hardware will be affected and as a result, so will the lifespan of your doors and windows. That could be performance issues from the way the hardware operates or visual issues from the way it looks – becoming rusted, spotted, pitted or tea-stained. And that in turn will mean unhappy customers and potentially costly call outs for remedial jobs.
Fight Back Against Corrosion with the Coastal Hardware Care and Maintenance Kit
Designed to help counter the threat of corrosion, our new Hardware Longevity Kit contains everything you need to help your windows and doors look better and operate for longer. Consisting of a range of specialist solutions and lubricants designed to protect your hardware against the threat of corrosion the benefits don't just stop there. In addition to the physical benefits, our new kit will help you stand out from your competition, delivering even greater customer service to your customers.
What's In The Pack?
Choose from a range of marketing leading solutions including:
Stand Out From the Crowd
Not only does our Hardware Longevity Pack help your doors and windows perform better for longer, there are wider benefits including:
Giving you an opportunity to upsell your doors and windows through enhanced quality and customer service
Offer your customers something your competitors don't
Provide enhanced customer peace of mind and increase recommendations
Personalise pack contents and branding to your specific requirements* – click here for more information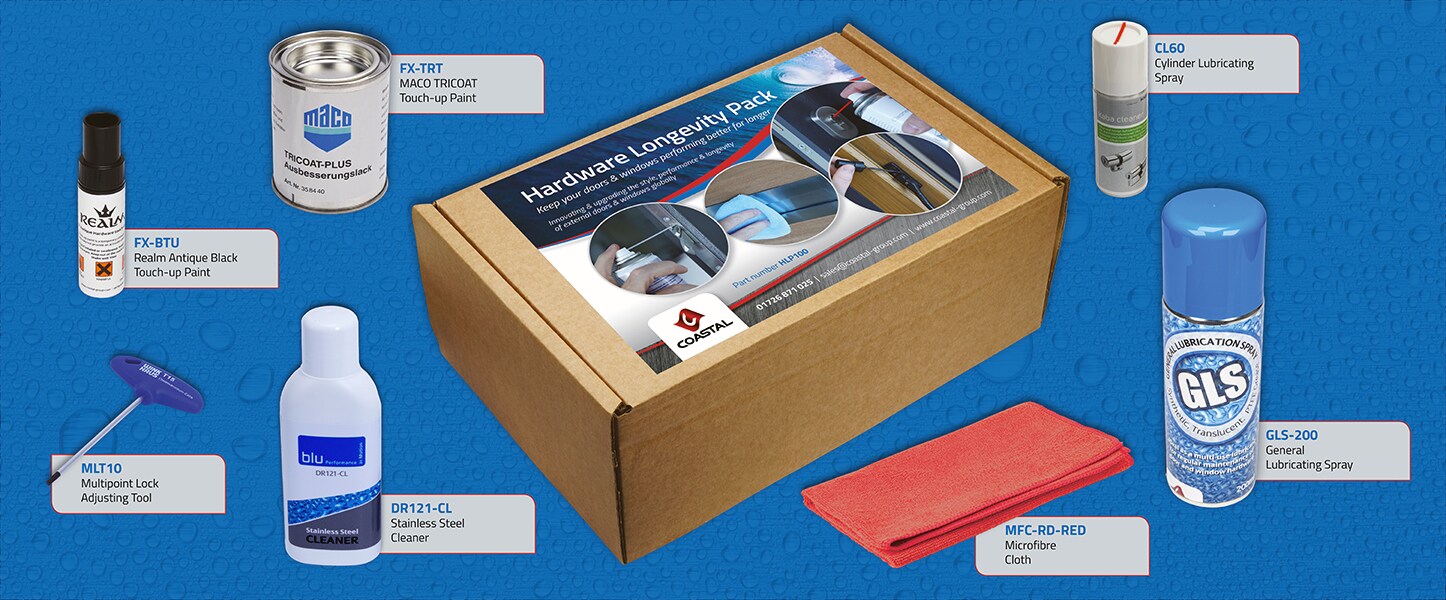 To find out more about our new Hardware Longevity Pack call the team on 01726 871 025 or email [email protected].
(1) https://pomametals.com/salt-air-inland-distance-for-metal/
* Minimum order quantities apply